By Kevin Miller
The 2019 Annual Flat Panel Shootout® created by Robert Zohn of Value Electronics was hosted this year by CE Week at the Javits Center on Wednesday, June 12th and was recorded live.
Joel Silver of the Imaging Science Foundation and I developed the testing criteria (patterns and content), and put all of the four contenders through the testing procedure. The event was MC'd by long time Consumer Electronics Editor, Scott Wilkinson. This year, the panel of judges was composed of content creation professionals, engineers, color scientists, colorists,  technical editors, and reviewers:
Channa Da Silva, an independent reviewer at 4K TheaterReview.com
David McKenzie, a Video Compressionist and Founder of Fidelity in Motion
David Medina – Manager, Media Operations at HBO
Michael Reuben – Retired reviewer at Blu-Ray.com
Bill Schindler – Industry Consultant on the Display side
Giles Sherwood – Postproduction Supervisor and Color Scientist at Criterion
Greg Tarr – Managing Editor at HDTV Guru
Brandon Yates – Video Engineer & Co-Owner of Yates & Parks Consulting
Each judge is introduced  at the beginning of the video (short bio).
The contenders were the LG 65C9P OLED, the Samsung QN65Q90R QLED LED backlit LCD panel, the Sony XBR-65Z9F LED backlit LCD panel, and the Sony XBR-65A9G OLED panel. We placed the Sony BVM-X300 OLED master monitor in the center of the lineup so that the judges could assess the performance of the consumer panels against a reference monitor used in post-production for 4K and HDR grading as well as quality control on TV and film sets.
Most of the selected content was downloaded on a Kaleidescape Strato server, which delivers bit for bit 4K Blu-ray quality video, but is not Dolby Vision capable. To display Dolby Vision content, we used an Oppo UDP-203 4K Blu-ray player. All video was switched through an AVPro Edge AC-MX1616-AUHD 16 x 16 HDMI matrix switcher. Metra Home Theater Group provided Velox passive Premium 35-foot HDMI cables.
John Reformato who does all of Robert Zohn's calibration work and I spent the better part of two full days calibrating the five displays. All the panels were calibrated using a somewhat different methodology than just typical calibration to the video standards for SDR Rec 709 and HDR P3 color. In order to match the different displays as closely as possible, we calibrated the Sony Reference monitor BVM-X300 white point to Sony's Judd Modd specifications. This is an altered grayscale reference of x=0.3076, y=0.318, which was developed by Sony years ago when they first introduced their broadcast RGB OLED line to address the perceptual differences between different display types caused by spectral power distribution differences.
Then, we put up a 25% size window at 100% white on all of the panels at the same time, and perceptually matched the four consumer displays to the Sony BVM-X300 reference monitor. Next, we created a custom color space in CalMAN based on the measurement of white, red, green and blue from the perceptual match on each of the consumer displays. Finally, we calibrated each of the consumer displays to its custom color space. It was agreed by all of us who have been involved in these shootouts over the years that this method produced the best match between the displays yet achieved at any of the previous Annual Flat Panel Shootouts.
As in all previous years, we started off by showing the audience test patterns followed with real content, mainly from 4K Blu-ray sources, in each of the performance categories. We also added one more category of performance for Streaming as the vast majority of viewers actually rely very heavily on streaming content.
The Sony XBR-65A9G OLED was the overall winner in every category except one, the Streaming category, where LG 65C9P and the Sony XBR-65A9G were a tie. See results below (provided by Value electronics)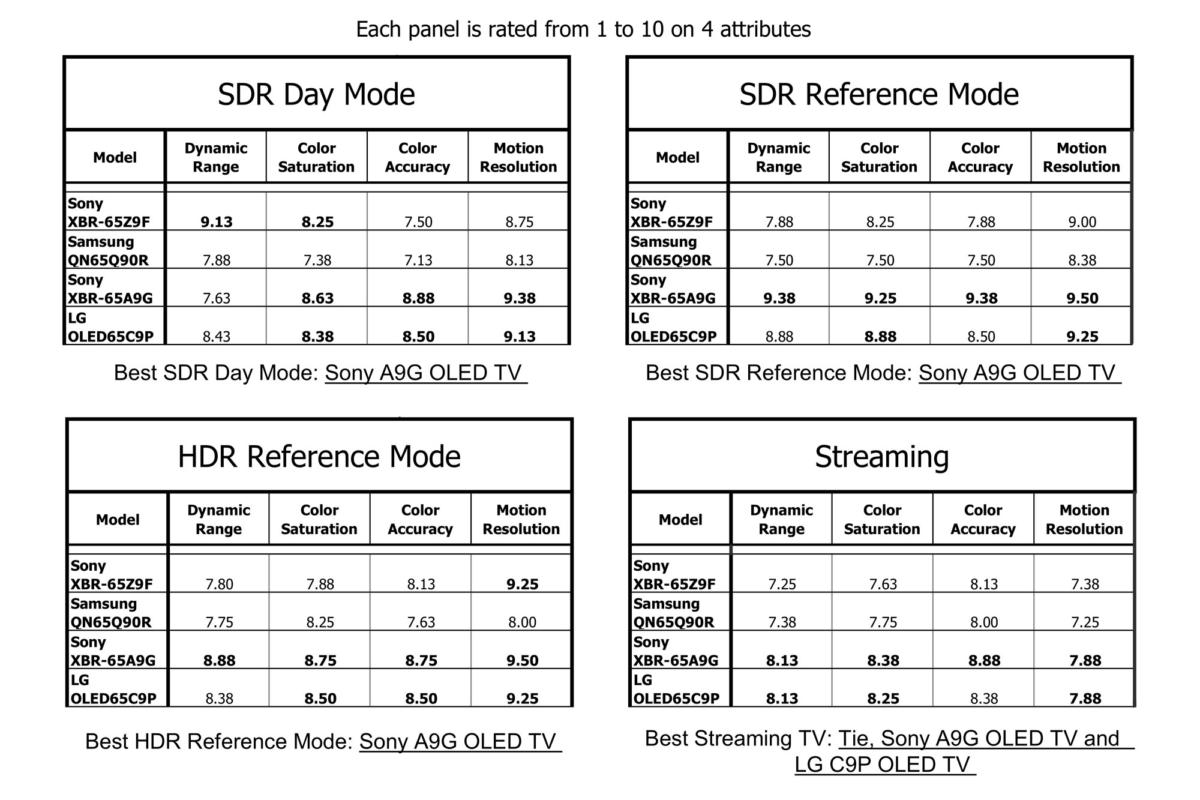 Listed below are the demo clips we used for each of the performance categories:
DYNAMIC RANGE:
CONTENT:
''MAD MAX: FURY ROAD''
Chapter 10 – 130:00 -133:50
MLL=4000 Nits
''THE REVENANT''
Chapter 1 – 2:16 – 4:36
MLL=1000 Nits
P3 COLOR COVERAGE & COLOR ACCURACY
CONTENT:
''AQUAMAN''
Chapter 9 – 1:21 to 1:34
MLL=4000 Nits
''2001: A SPACE ODYSSEY''
Chapter 31 – 2:01:53 – 2:04:20
MLL=1000 Nits
''PLANET EARTH II"
Chapter 1 – Disc 1 – First 2:30
MLL=1000 Nits
VIDEO PROCESSING/MOTION RESOLUTION
CONTENT:
"BABY DRIVER''
Chapter 1 – 0:50 – 6:05
MLL=4000 Nits
"MISSION IMPOSSIBLE – FALLOUT"
Starting chapter 12 at 1:57:30 – 2:00:10
MLL=4000 Nits
STREAMING
"OUR PLANET''
DYNAMIC RANGE: Episode 2 – ''FROZEN WORLDS''
COLOR (Rec.709, Not P3): Episode 4 – ''COASTAL SEAS''
BONUS: ''BEHIND THE SCENES''
"LUCIFER"